Car Hire in Airport ANTALYA
ANTALYA Airport Rent A Car Companies, 15 km from the center of Antalya. from Istanbul Ataturk Airport which is on the ANTALYA-ALANYA road, on the eastern side of the city. Aksu airport within the boundaries of the district, is also used as a military airport. ANTALYA Airport terminal consists of 3 including two external lines. Outside the terminal II provides terminal services outside No. I just closed in winter. Europe is one of the largest airports in its class. It is very easy to reach from anywhere in the airport of ANTALYA. ANTALYA airport, bus station and public transport from the port 2 is to act in every half hour, also it is in the service of HAVAS company. Is located on the ANTALYA-AKSU way, the bus to O direction, pass close to the airport, making it easier to transport. To be held in April 2016 EXPO 2016 event of the year, the airport improvement work continues unabated. In the summer months due to insufficient airport made between ALANYA-GAZIPASA it has reduced the Antalya Airport to get some intensity.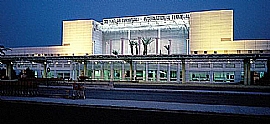 ANTALYA Airport rent a car companies, they are generally assist passengers from the office located just outside the airport.

Rent a car in more institutional quality companies are located in Airport rent a car while serving in office.

Less and are sufficient number of firms in the airport, it's the result not given more work opportunities for companies as well, is located near the airport rent a car companies.

It antalyarentalcars.co ANTALYA airport rent a car company that operates as of the end of your trip overseas and domestic airport is delivered to you in your car.

ANTALYA Airport rent a car in the economic structure, the diesel offers you a hassle-free travel to the new model vehicles.

You can return the address you want your car you rent from us.

Rent a car if it is a reliable company in the rent a car company should always investigate before you rent a car.

Please read our rental terms again before you can use to rent a car company.

Completing the reservation form on our home page to claim your vehicle result, the officers returned back to you as soon as possible our staff will give you information about booking.

Rent a car service to take advantage of the summer period, it is recommended that you take your car for at least 1 week before.

ANTALYA Airport rent a car, you are committed to the safe and smooth ride.