It takes its name from the beach of KONYAALTI. KONYAALTI, located in the west of ANTALYA, is a new residential settlement. KONYAALTI, one of the examples of planned urbanization, is one of the most touristic places in ANTALYA center. KONYAALTI, which is very popular with foreign citizens, shows these things which are most interesting for real estate sales.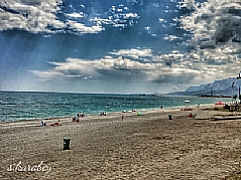 ANTALYA KONYAALTI is located on a plain between the Beydağları and the Sea, where you can try the swamp in the past. The land is not available to expand too much. Many institutions (Akdeniz University, Courthouse, Special Provincial Administration, Provincial Health Directorate, Courthouse, etc.) Konyaaltı has touristic and entertainment places in tourists. As we mentioned earlier, KONYAALTI Beach is the most interesting place.Located in the eastern part of the beach, Beach Park is a place for entertainment, especially during the summer months. At the Open Air Theater, local and foreign artists are constantly giving concerts. The beach, which is blue flagged, is stony. There are many hotels, restaurants, parks and convents along the KONYAALTI beach. Although the number of five-star hotels that we can say is not very large, the fact that these hotels are located right in the city increases the occupancy rate in the hotels. With the advantage of being in the center of ANTALYA, being close to other holiday centers, KONYAALTI is the first choice for the hotels. It is wise to stay in KONYAALTI hotels if it is thought that the tourism centers located in the east and west of ANTALYA are reached in maximum 1.5-2 hours. Rent a car companies that are serving to both KONYAALTI hotels and KONYAALTI are helping you.
ANTALYA KONYAALTI can be the reason not only with sea and sun but also with other characteristics. Minicity, Glass Pyramid (for culture, art and festival activities), Atatürk Park, ANTALYA Museum, Tunnel Aquarium are just some of them. KONYAALTI rent a car company provides you rent a car for you to visit such places or for your business and other travels. KONYAALTI rent a car offices are scattered around different points of the village. ANTALYA Central and ANTALYA Airport, our company, you want to bring your vehicle to adresse to help you with car rental. KONYAALTI rent a car is the address for a smooth and safe journey with the economic, automatic and diesel vehicles in its possession. We rent the car to you at the airport or at the bus station. You can get a rent a car service by filling out the reservation form or you can reach us by phone or mail.
To read the previous article; Rent A Car LARA ANTALYA