Rent A Car Kundu ANTALYA
KUNDU is located on the eastern side of the city. KUNDU, which has boundaries with MURATPASA and AKSU districts, is 15 km from ANTALYA center and 6 km from ANTALYA airport. Away. The KUNDU Resort is located between LARA and BELDIBI. KUNDU, where the beaches of Lara are located and the seaside hotels are located, started to be established for tourism investments almost 15 years ago. ANTALYA KUNDU, which is known for its world-class hotels and its name, also has a number of hotels, small bazaars and entertainment centers offering holiday facilities for every budget. BELEK - KUNDU road, which has been operating about 2 months ago, will add another vitality here. Hotels and other accommodation centers operate with an all-inclusive system and occupancy rate is one hundred percent in summer. Those who want to take a vacation here in the summer, starting from the winter months, early booking opportunities can make more affordable prices. Almost all hotels in KUNDU are active in summer and winter. The congress, business and sports tourism held during the winter months ensures that this place is popular every season.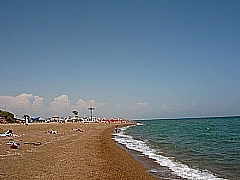 ANTALYA KUNDU, BELDIBI, SERIK, MANAVGAT, SIDE, ALANYA, ANTALYA and many more close to the center. KUNDU, which is about 10 minutes to the EXPO 2016 fairgrounds, is preparing to host many guests at the EXPO 2016 fair to be held in April 2016. The fair, which will make a great contribution to the promotion of Turkey, will also advertise KUNDU and other tourism centers in Europe and worldwide.
Transportation from ANTALYA KUNDU to ANTALYA center is very convenient. Every 15 minutes from KUNDU, where public transportation vehicles operate. There are also buses to ANTALYA Central and Lara. Guests staying at the hotel benefit from taxi and public buses or rent a car companies. The rent a car services at KUNDU Oteller can be understood with a little research that the prices are a bit higher than the rent a car companies operating outside. In ANTALYA KUNDU, rent a car services are usually provided by companies operating in Lara and Airport. As ANTALYA KUNDU rent a car firm we are also helping you from our offices in ANTALYA Airport and ANTALYA Central. You can pick up your car at the airport, at the hotel, or at your preferred address.
It is enough to fill out our reservation form on our homepage to rent our new, affordable, cheap, masked and modeled vehicles in ANTALYA KUNDU rent a car firm. You can also contact us via email or telephone.
To read the previous article ; Rent A Car in KONYAALTI ANTALYA