Rent a Car LARA - ANTALYA
Remaining in the city's eastern district of LARA is in Kepez district boundaries. If the name is taken from the famous beach. At the beginning of year 1990 made redevelop the area with the current state of LARA, it is the most popular place in ANTALYA. Real estate demand, especially for the show come from abroad that LARA has completed the infrastructure is planned residential location. Old LARA km yaklaşık11 starting path. like sea coast in LARA, five-kilometer section of the cliffs occupies it. Route known as the Old Lara Road, jogging track, known for its parks and walkways. Many of cafes, bistros and restaurants that you find throughout the Old Lara Road, especially people flock to watch the sunset evening. Duden Waterfalls in LARA at the end of the road and park in a separate adds beauty to LARA. Following the end of the cliff you 6km, it meets a blue flag sandy beach. The world's most beautiful and longest beaches of LARA beach, extends to KUNDU. On weekends the beach is very crowded, very wooded and forested areas for recreation and picnic area to be protected is also available.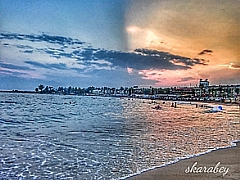 ANTALYA LARA holds the pulse of the entertainment. Many discos, cafes, shopping centers and bars. The most famous shopping centers Terra City is Laura and Shemall. Public market, a few each day at different points of the neighborhood is installed.Of rental and real estate market is the fact that it is a bit expensive. KUNDU airport rents and property is the right party to be recognized as cheaper. Airport 5km. from which LARA, about 10 km. from the city center. away. It is easy Transportation, raises the possibility of going anywhere with public bus to ANTALYA.
LARA also located in the world-famous five-star hotels are generally, are working all-inclusive. Among the most famous Clup Hotel Sera LARA Hotel Adonis, The Marmara Hotel Lara Diamond Hotel, Grand Park Lara Hotel, Atalla Hotel, La Boutiqe Antalya, Accra Gunpowder hotel are the most famous. Hotels are usually located along the sea coast. According to them outside the hostel very reasonable budget, boutique hotel-style accommodations are also available. ANTALYA LARA's position should be close to other places to visit, it makes it possible to travel daily for guests staying in here. KUNDU, BELDIBI, BELEK, KEMER, AKSU, MANAVGAT, SİDE and ALANYA are only a few of them ..
LARA Rent a Car service providing a rent a car service, ANTALYA airport at district and located in or scattered to different points. LARA Rent a Car service in which our company is located in the center of ANTALYA and ANTALYA Airport rent a car from the office is to serve you. It is also located on-site automatic, diesel and economic tools, we make a purchase reservation 24 hours a day. Just call us to benefit from LARA rent a care. Delivering bringing your car to your delivery address and we take from wherever you are. If you want to meet at the ANTALYA Airport and we deliver your vehicle. Secure, please choose us for a smooth and comfortable travel.