Rent A Car Beldibi ANTALYA
BELDİBİ, bound to Kemer District of ANTALYA, is 25 km from ANTALYA province. Distance. This town, which was once a small, charming, forestry and agriculture-related town, is now in its present condition with various tourism investments made about 20 years ago. BELDİBİ, which is especially popular with foreign tourists, especially Russian tourists, is an image that the forest and the sea dance together. BELDİBİ, located on the skirts of Bey Mountains, which displays all the magnificence of the Taurus mountains, addresses everyone who loves nature and sea.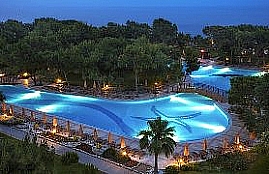 Along the BELDİBİ beach you will encounter large, usually 5-star hotels. Further inside, there are budget hotels and guesthouses and other accommodation facilities. Almost all of the bigger hotels make up the occupancy rate in the summer. BELDİBİ, where many hotels and lodges are closed in winter, is open to the public, serving congress, business and sports tourism. BELDİBİ has a world-class quality service. With early reservations before the summer arrives, it is possible to make a much cheaper holiday. Mostly, indoor-outdoor pool, children's entertainment centers, bars, disco and sports facilities are available as standard. Located along these seaside lines, the hotel offers the opportunity to shop for guests who also come from tiny bazaars and shopping centers, shops and shops. Here, local food and clothing products, leather shops, seafood and souvenir shops are available. There are much more economical prices than the shops in the hotel. BELDİBİ Holiday Center, GOYNUK, KEMER, CAMYUVA, TAHTALI and ANTALYA are close to many places. Therefore, those who find a holiday in BELDİBİ will make daily trips to nearby tourist attractions. These trips are usually carried out by tour companies or rent a car companies.
BELDİBİ rent a car companies serve from the offices located in the holiday center in summer. These communication points, which are closed when the tourism season is over, are reopening with the season. The rent a car companies operating in the hotel also keep their prices slightly higher than other firms in terms of renting a car. As BELDİBİ rent a car service, we also offer car rental services from ANTALYA Airport and ANTALYA Central offices. Rent a car Our company is delivering / delivering your car to your hotel or other accommodation and address. We can deliver your car in the bus station or airport. ANTALYA Rental Cars, BELDİBİ you are always available to rent a car service.